Moultrie

High School




Class Of 1969
This is a brand spanking new APP
called
designed by our website providers Class Creator
Is now live!
The System status is considered in Beta. Please be mindful that
start up issues exist
and are being resolved as quickly as possible by the website providers.
This new APP will assist in:
finding classmates

inviting them to join the class website

enhancing our class website experience

increase communications between classmates

notify you of class website activity on your facebook page

help you connect with members of other classes

provide security for us and our information
NOTE: This Facebook Class Connection APP will only be visible to our MHS Class of 1969 classmates. The only information shown is what is already on your Classmate Profiles now.
With anything new glitches may need to be worked out.
Patience is appreciated.
Now let's make it easy. Click the "Class Connection" link under your Member Functions (or the right hand Facebook announcement ). Voila, you're now into the app with all of your class data synched.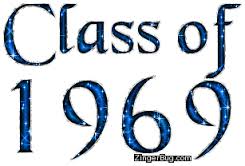 You are warmly invited
to Moultrie High School's 45th year reunion
for the graduating class of 1969.
May 2-3, 2014

Social Hour at 6 PM
Dinner, Music, Dancing and Entertainment to follow.
894 Mack Dekle Road
Moultrie, Georgia 31768
Sundown has beautiful lodging as well as plenty of rooms at the Hampton Inn or Holiday Inn Express here in our beautiful hometown of Moultrie.
Also, those of us who can, will gather at *Bentley's for dinner, music and socializing on Friday, May 2nd ay 7 PM. Patrons pay Bentley's.
*Bentley's 1520 South Main Street, Moultrie, Georgia 31768
Couple $75
Individual $40
It will be a wonderful weekend to catch up and bring back some special memories! We welcome you back!
Registration begins now! Click on MHS 45th Reunion and fill out form.
Can pay by Credit Card or mail a check. (Info on registration form.)
****In search of email or
physical addresses of these classmates:
Barbara Gail Allen
Janet Allman Cooper
Rodney Davis Barfield
Joseph Michael Barnes
Randall Bivins
Patsy Boyd
Martha Faye Brackens
Lillie Mae Brown
Ed Crosby
Mike Daughtry
Christine Evans Johnson
Manzie Fulton
Mary Ann Glover Keller
Eudora Godfrey
Peggy Hall Schuler
Ernie Harden
Tommy Hatfield
Katharine Jackson
Mary Jean James
Nathaniel James
Jackie Jenkins
Randy Jenkins
Rita Johnson Greer
Sara Johnson Kennedy
Paula Lofton Raines
John McKean
Patsy Mcleod Boyd
Gail McMullen Allen
Linda Faye Millings
Jennifer Monk Rainey
Lavenia Spurlin Powers
Joseph Taylor
Mary Ann Glover Thompson
Thomas Tillman
Timothy Tillman
Joy Trimble
Steve Walters
Gail Phillips O'Neal
Vickie Pope
Sam Rosencrantz
Bill Wade Russell
Can you help?
Send a message to Teresa Mims Venet.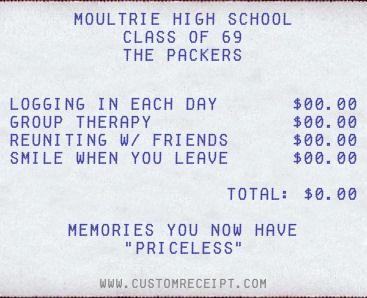 Welcome to the Moultrie High Class Of 1969 website. This is a permanent website for all students of MHS who graduated in 1969, or not quite, moved away and/or finished at another school. You are all welcome here!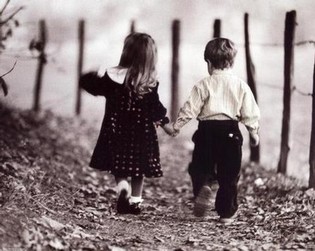 "Our friends are a very important part of our lives.
Treasure the tears, treasure the laughter, but most importantly, treasure the memories."

We hope that this website allows you to reconnect with our fellow classmates and easily share important events with everyone.
We are great!! We are fine!!
We're the Class of 69!
PRIVACY NOTICE: All contact information (address, phone number, e-mail address) entered into this website will be kept confidential. It will not be shared or distributed. Your contact information is private: your street address, e-mail address, and phone number cannot be seen by the classmates unless you grant permission on your Profile. When someone clicks on your name, the only contact information they will see is your city and state and whatever information about yourself you choose to put on your Profile. Unless you explicitly grant your permission, your email address is not visible, although an email can be sent to you using the contact box at the bottom of your Profile page. Note, however, if you send a message to someone through their Profile page, the Classmate will see your email address so that they can respond.

MEMBERSHIP DISCLAIMER: This is a private site for Moultrie High School Class of 69 Graduates. Classmates that did not graduate with the class can be admitted. All membership will be granted or denied, at the discretion of the site administrator. All memberships may be revoked at the discretion of the site administrator. The privacy and security of all registered members will be considered a priority for the purpose of invitations, admittance, denials and revocations.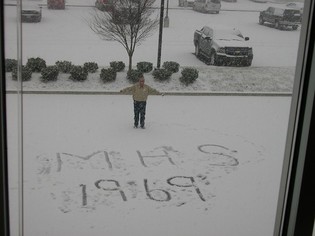 Leland outside his office in Shelbyville, TN
Jan. 29, 2010
By: Leland R. Dampier, Jr.
Two score in years gone by
Schooling, work, marriage, children in between
Joy in living we savor, in sickness and death we try
Blue and white collar paths we chose
Creating memories as we made our journey
We saw doors open and some close
In as much as fate has run its course most of us are still here
Thankful we are as we face another day, may we dig deep
To live each moment with hope and cheer
We are truly blessed to enjoy this special time
As this forum shares precious memories that rejuvenate us
The Moultrie High School Class of 1969
Change the times
Change the lines
We don't mind
Cause we're the class of '69!
by Francine
STEVE MERCER


I cherish the memories I have stored
from eras that have past.

I embrace the friendships I have kept
strong bonds built to last.

I sigh sometimes when I reminisce
of days so long ago.

But it helps to ease my mind somewhat
when I realize I know.

That I spent my youth in amazing times
living life to its fullest.

So let me crown the Class of 69
the best and the coolest.


Leland R. does have a way with words.....

Please take a few minutes to visit the "In Memory" section. It would be great if you could add any personal stories about our classmates who have passed away.

A Poem posted on the forum- page 69!
By Melicent
We're from the class of '69,
We are great-YES- we are FINE!
You can't get us down-
We won't wear a frown,
'Cause we're ALIVE!
We're The CLASS of '69!!!
Music for Packers
You can make some changes in the "radio" if you like. Here are some tips:
To listen to the music, no matter what page you're on, stop the radio by clicking on the

large, round button w/ the 2 vertical bars. Then click the POP-OUT PLAYER button. You'll see the radio load on another page. Press the intertwined arrows button at the top of the box to select Shuffle. In theory, you should also be able to adjust the volume scale up or down.
Now turn on this radio by clicking the large button w/ the right-arrow. Then minimize this page, returning to the Home Page. Now you have 2 radios (the one on the Home Page and the Pop-Out Player. The Home Page radio needs to remain stopped (unless you LIKE listening to 2 different songs at the same time). Now the music will play as long as you're in this web site (again, theoretically).
NOTICE

: You MAY have to stop the Home Page radio every time you return to that page. Oh well, the price is right.
Welcome to our MHS Class of 69 website!
This is a permanent website for all students of MHS who graduated in 1969, or not quite, moved away and/or finished at another school. You are all welcome here!
Our wonderful old high school building got leveled to the ground. In it's present site is Willie J. Williams Middle School. Our alma mater is now called Colquitt County High School. To see how they are doing, go to : http://colquitt.k12.ga.us/cchs/index1024.htm